Hornby School Museum 10000 Station Road, Erie PA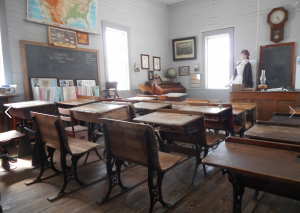 Construction on Hornby School began in 1873. Hornby opened in November 1875 and was in continuous use from then until it was closed 1956. After the construction of the Greenfield Elementary School, Hornby was abandoned. The Hornby School Restoration Society was formed in 1973 to reclaim and restore the building to its circa-1875 condition. Re-opened in 1981 as a museum, our schoolhouse was listed on the National Register of Historic Places on August 13, 2008.

The Hornby School is a working one-room schoolhouse where visitors can experience school as it was when Hornby was new around 1880.
Step back in time to 1875! Sit at an old time desk and write on a slate or try to write Spencerian Script using pen and ink. Get a drink from the pump or take a trip to the original privy. Look at some old school books and browse through our scrap books of photos from the past. There are lots of things to see and experience at Hornby School.
Victorian era common school restored to its 1875 version. Free and open to the public Sundays June through October 1:00pm to 5:00pm or by appointment. Call 814 323-4404 to make appointment for group visits April through November.
On Facebook @HornbySchoolMuseum